*Creator
*Creative Director
*Producer
*Visual & Performing Artist
Torch 3D
Design Week Portland
PIE
Quirktastic
Chrome
MassArt Art Museum
Momoland LVL4. took place at Ground Kontrol, Portland's premier arcade.
Momoland studios held it's first Magical Gurl Contest.
Providing one winner an all expense paid trip to Momoland while partnering with

Jupiter Next Hotels to create the ultimate hotel stay experience.
Weekly Newsletters were sent out to subscribers to keep them up to date
Products such as the Magical Momo mirrors were created for purchase.
A 14 foot Momoland tree was constructed
from scratch for LVL. 4. as well a virtual reality game.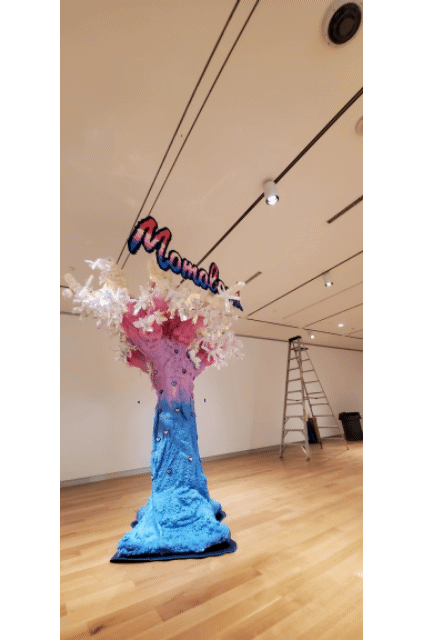 On April 12th 2019 Momoland the Virtual Experience traveled to Afrotech Fest in London, UK to showcase its fantasy realm

built in Unity. Utilizing the HTC Vive system, users wielded their

Momo Pixel gloves to capture the crystal hearts hidden w

ithin the world. The VR experience was a hit, striking curiosity and imagination in many.
From 16ft physical installations to virtual reality games, ar experiences and much much more. Momoland is a creative playground, a place of yes in a world of no's. With every new iteration the wonder of it's world grows.
Momoland was featured in the Boston Globe and NBC Boston among other various articles for its big spalsh in MassArt Art Museum.
LVL 1: March 23rd 2016, Atlanta, GA.
LVL 2: October 13th, 2016 Portland, OR. Wieden + Kennedy
LVL 3: April 27th 2017 - Portland, OR Art Walk
LVL 4: September 6th 2018 - Portland, OR. Momoland Studios
LVL 4 VR: April 12th -14th 2019 - London, UK Afrotech Fest
LVL 5: February 22th 2020 - Present - Boston, MA MassArt Art Museum